I have nothing at all to say today.  So that means it's time for pictures, everybody!  I was going through iphoto and realized that we did a lot of fun things this summer that I never blogged about.  Here is a sampler:
A chain-link fence is strong enough to keep in a tiger, right?  Right???
At the zoo in the outrageous Texas sun.  Can you see the sweat dripping off of our faces?
We found this wonderful sweet shop in Shertz, Texas.  Homemade ice cream, cakes, goodies and a ton of Texas-themed home decor (just in case you forget what state you live in).
(Ask a 10-year-old boy to smile and this is what you get.  Thanks Finn!)
Just your friendly neighborhood zebra
We're going for the record of the most pictures taken of children with goats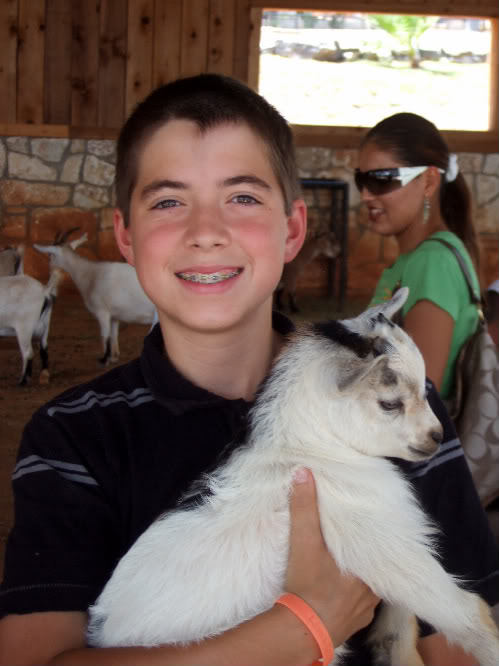 But when the kids (both human and animal) are this cute, how can I resist?
On the way to get family photos done in Utah a piece of tire rubber came flying up and smashed the windshield of the car I was driving (my sister-in-law's car, by the way.  Sorry Cammie!)  Because nothing is more important than cute pictures, I dusted the broken glass off of my clothes and out of my shoes and kept going.
I made a few cakes.  The one above is my signature cake (Chocolate Raspberry Fudge).  It's absolutely swoon-worthy.  India is my only child with enough sense to request it for her birthday.
Rain!!! Finally!!!  (This is what you do when you can't afford a pool.)