To beat the Texas heat we went to Krause Springs last week. It's about 45 minutes west of Austin and is an old fashioned swimmin' hole.
Complete with a rope swing:
It is, quite literally, a hole. It's been carved out of limestone, thus the "beach" looks like this (I spent the entire time telling the kids to be careful not to slip and crack their heads open):
There was also a spring-fed swimming pool which was freezing. The kids didn't mind, though.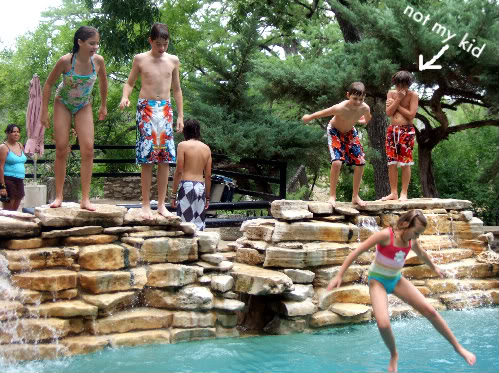 When I wasn't worrying about the babies cracking their heads open, I was worrying about them wandering off and drowning. Next to the pool was an old lifeguard stand; the perfect place for keeping little kids from running away.
The kids loved Krause Springs. Me? Notsomuch. Let's look at it from a mathematical standpoint:
(child x 6) + water + (rocks x waterfall x slippery moss) + mother (-father) + fire ants under picnic table = Jennie needs a valium