At some point in every woman's life, there will be a yearning to make cinnamon rolls. (OK, probably every American woman. I can't imagine some Chinese lady in a rice paddy standing up one day and thinking "I would like to make a sweet bread I've never heard of." Or however you say that in Chinese.) Most women ignore this primal urge because–my gosh!– how intimidating! Some women give it a shot and if you have never made yeast bread it can turn into quite a debacle. Making cinnamon rolls isn't difficult as much as it is complicated. But I'm here to hold your hand and tell you that you can do it. It might be a little scary, but you really ought to know how. To motivate you a little, let me tell you that the cinnamon rolls in this tutorial are the best I've ever had. And I've had a lot of cinnamon rolls. If you think Cinnabon is good, wait until you try these!
This is my friend Bonnie. She has never made bread before. She made her first attempt at cinnamon rolls last week and it was not a success. So I invited her over to show her the ropes. (She is also the Relief Society President of my ward. If you think your failure in the kitchen is going to keep you out of that calling, wrong-o!). I'm all about teaching a man to fish, so Bonnie did a lot of the work in this tutorial. It was nice having an extra set of hands to help snap pictures (usually I must rely on 12-year-olds with notsogreat photography skills). If Bonnie, a total breadmaking amateur, can do it, so can you!
Let's talk about yeast before we begin. Yeast is actual living creatures, like tiny and uninteresting sea monkeys. They're dried and most often put in packets. Look at the date on the packets because once the expiration date has passed, it has passed. They're dead. To make sure your yeast is alive and kicking, you need to proof it. Which means putting it in some lovely warm water where it promptly divides and grows and starts to get all bubbly. If this doesn't happen after about ten minutes, your yeast is dead. Throw it out. Or you can skip all this rigmarole and get instant yeast instead. Instant yeast is preserved differently. Much more yeast is kept alive so there is no need to proof it to make sure. You just mix it in with your dry ingredients and it will magically work. Instant yeast (as opposed to regular yeast which is called "Active Yeast") is a bit harder to find in stores. (If you live in central Texas you can get it at HEB.) It comes in a big one pound bag which looks like a block. I open the block and then keep it in an airtight container in the freezer where it will last much longer. Rapid-Rise yeast is very similar to instant. So if you can't find instant yeast, get rapid rise. It will pretty much behave the same; i.e. no proofing needed.
Step one in our recipe will be combining the wet ingredients. You'll want everything to be very warm since yeast loves to be nice and cozy. First you'll need a room temperature egg. Since I never, ever think far enough to advance to let an egg sit on my counter long enough to warm up, let's get it warm the cheaters way:  put it in a bowl with hot water for ten minutes.  Then break it into the bowl of your mixer and whisk it gently.
Combine the milk and water in a big measuring cup and heat it in the microwave for about 60 seconds.  This goes in the mixer bowl too. As does the butter which should have been melted in the microwave as well. You can also put in the vanilla at this point. (Notice how we're using the paddle attachment. Don't use the whisk!)
Now throw in all the dry ingredients:  flour, salt, sugar, flour, gluten and yeast.
A note about these ingredients: if you have it, use bread flour. It will make a sturdier bread that will rise higher. If you have regular flour that will work just fine too but the texture won't be as lovely.  It's not a deal-breaker, though. Also nice but not necessary is vital wheat gluten. You can get this at the store near the flour. It will add height and structure to your bread. I highly recommend it but if you don't want to get it, your rolls will still turn out okay.
When I turn on a mixer full of flour, I generally drape a dish towel over the top for the first minute so the ingredients don't fly all over the place.
Once your bread dough has gotten thoroughly mixed, you're going to remove the paddle attachment and replace it with the dough hook (if you have one).  Once you put on the dough hook, this counts as kneading, not mixing.  You're going to knead the dough for about five minutes. This helps the gluten to develop nice long strands that give bread its texture and height. You may want to try kneading by hand if you're feeling ambitious. I'm super lazy so I rarely do this.  There is always the eternal question of how much kneading (whether by machine or by hand) is enough.  I'll tell you how to find out.  You can apply this to any sort of bread-making: white bread, whole wheat, whatever. All yeast bread needs to develop gluten. After you've kneaded this bread for five minutes, rip off a chunk of dough that's a little bigger than a ping pong ball. You're going to pull it apart slowly and gently with both hands. If the gluten hasn't developed well enough, the dough will simply rip apart in the middle. You'll need to knead more.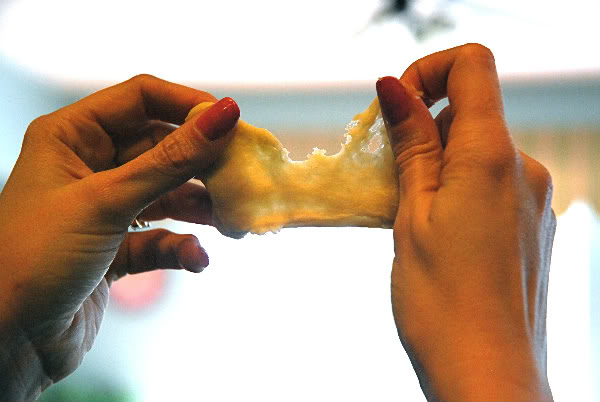 Knead it for another minute or two and try again.  If your gluten has developed enough, the dough will become translucent and thin before it starts to rip (holding it up to the light will make it easier to see.) This is perfect:

Once your gluten has developed enough, you can stop kneading and start rising. Take a nice clean bowl and give it a light spray with Pam. Place your dough at the bottom and cover the bowl with either a clean tea towel or plastic wrap. Place it in a warm spot until it has doubled in size.  I like to preheat my oven for about a minute then turn off the heat. It gets to about 110°, a temperature that yeast loves.  At this temp, it takes about 45 minutes for it to double. If you have a chilly kitchen it will take up to an hour and a half. In my case with Bonnie it was just long enough to go get some tacos at Torchy's. Yum!
While your dough is rising you're going to soften a stick of margarine. Ew, margarine? Who uses that? I use butter pretty much exclusively except for making cinnamon roll filling. Let me tell you, margarine makes it much stickier and gooier. You want sticky, gooey filling, right? If you use butter it's more likely to melt and dribble into the bottom of the pan.  I swear these will taste fantastic! Trust me! There's all sorts of weird butter-esque stuff at the store these days. Look for the box that says "margarine".  In a separate bowl you'll mix brown sugar and cinnamon.
Once your dough has risen, you'll grab it and throw it gruffly down on the counter, kneading it a couple of times. The dough is so soft and squishy at this point; not at all sticky. Honestly it reminds me of my stomach after I have a baby. What a pleasant thought, no?
You'll now need a nice big expanse of countertop to roll out your dough. I have a great big Silpat that is just the right size. Take a rolling pin and keep rolling the dough until it's 24″ x 15″. Make it as rectangular as possible. This takes a lot of elbow grease but it's worth it.
It's time to spread your margarine. You'll spread it clear up to three edges. Leave the edge closest to you margarine-free so it can be sealed.
Sprinkle the brown sugar/cinnamon mixture evenly over the margarine, leaving the free edge bare. To make sure it stays put while baking, we're going to press the sugar into the margarine with a rolling pin. This is my favorite rolling pin in the whole world. I got it in France about a million years ago. You can get a similar one for around $18 here on Amazon
.
Let's roll this sucker up! Rolling it tightly is going to give you lots of spirals and makes the difference between an impressive cinnamon roll and a lame, amateurish one.  It also improves the bread-to-gooey-cinnamon ratio. Start opposite the clean edge.
Once it's all rolled up, you'll want to pinch the edge closed.
After it's pinched, gently roll it over so the smooth side is facing up and let's get ready to cut. To cut the rolls we'll use a perennial favorite: dental floss. I was lucky enough to have cinnamon in my drawer, but any flavor is fine. You won't be able to taste it. Using a knife will squish the rolls and make them look misshapen and ugly.
First cut off any unevenness on the ends. They don't need to be perfectly straight, but just get rid of most of the weirdness. To cut the dough, scootch the dental floss under the roll and criss cross the strands at the top. Then pull tightly and voilà! A nice, clean decapitation!
This batch of cinnamon rolls will yield 15. So we need to divide your giant log into 15 even sections. I like to use a table knife to play around with spacing. I gently press lines where I will later used the dental floss to cut. You know the old carpenter's rule: measure twice, cut once? Well, it applies here too. Nothing's worse than to be almost done slicing off rolls and realizing you've been cutting them all wrong and will now be four short.
In this picture you can see my dental floss and the yucky ends I cut off from both sides.
After I've cut off my ends I mark off three evenly-spaced sections about 8″ long. Then I divide each section into five smaller sections. If you've done it right, each cinnamon roll will be about 1 1/2″ thick. You can use a ruler or just eyeball it. (Also just so you know, locals pronounce Pedernales "pur-duh-NAL-iss". No, it does not make any sense phonetically.)
If this isn't quite how it worked out for you, mathematically-speaking, then do the best you can. Just remember that you'll want to end up with 15 cinnamon rolls.
Ideally the best way to bake these is in three 8×8 pans. These rolls are thicker than most standard cinnamon rolls. If these rolls are all crammed together in one big pan some will still be raw, and some will be cooked too much. If you've ever been to Cinnabon when they've gotten pans fresh from the oven you'll notice that there are only six rolls per pan. It's because thicker, taller rolls don't cook as well when they're all baked together. If you've cut your rolls thinner (3/4″-1″ is the traditional width), placing them in a big, shallow pan is fine. But I don't care for them when they're this thin. I like a more substantial, hefty cinnamon roll.
The pans should be lined with parchment unless you're in love with scrubbing hard, baked-on cinnamon sugar.
The pans I use are pretty cheap.  They don't need to be fancy or great-quality. You can get them anywhere. I use 8x8s all the time so I think they're a good investment. Otherwise, you can come up with any sort of configurations among the different pans you have. Just make sure you've got 1-2″ between each roll.
Now it's time to let the rolls rise again. You'll let them rise until they're just barely touching. It won't take as long as it did the first time. I'd check the rolls after 25 minutes to see how they're progressing. While they rise you should make the frosting. (I'm not going to give you a photo tutorial because 1. it's pretty basic and hard to screw up, and 2. pictures of white frosting in a bowl are beyond boring.)
Once the rolls are touching, preheat the oven to 330º and bake until they're golden brown (about 16-18 minutes. Longer if you have more in a big pan.)

Gorgeous!
Ocassionally one or two rolls will develop a Tower of Babel spiral coming out of the center. If this happens, gently press the top of the spiral down with a fork until the roll is perfectly flat across the top.  While the rolls are still warm, slather with frosting. You might want to hide one from the hordes of locusts family at this point. You deserve at least a couple of these.
These rolls take about four hours from start to finish. Most of the time will be waiting around while the dough rises and you won't have to do anything. But it means you'll be getting up pretty early to make these for breakfast. A lot of times I'll make most of the recipe the night before. You can do everything up to letting the rolls rise in their pans. Before they've done their second rise, cover the pans with  plastic wrap or a towel and put them in the fridge overnight. The next morning they'll do their final rise and be baked. Just be warned that since they've been very cold all night, it will take them much longer to rise. Preheat your oven for one minute (don't forget to turn it off!) and let them rise there. It may take up to 70 minutes for them to rise. Give yourself an hour and a half from the time you take them out of the fridge til the time breakfast will be served, just to be on the safe side.
Hildie's Marvelous Cinnamon Rolls
DOUGH:
1 egg at room temp, slightly beaten
1 cup whole milk
1/4 cup water
1/2 cup butter, melted
1 tsp. vanilla
4 1/2 cups bread flour
1/2 cup sugar
1 Tbs. vital wheat gluten
1/2 tsp. salt
1/4 oz. yeast
FILLING:
1/2 cup margarine or butter, softened
1 cup brown sugar, firmly packed
5 Tbs. cinnamon
ICING:
4 oz cream cheese, slightly softened
1/2 cup butter, slightly softenend
1 3/4 cups powdered sugar
1 tsp. vanilla
3-4 drops lemon flavor
In a mixing bowl, beat one egg with a whisk. Pour milk and water into a large measuring cup and heat in microwave until very warm (about 60 seconds). Add to mixing bowl. Add melted butter and vanilla.
Add dry ingredients to mixing bowl in order listed (these can also be made in a bread machine on the "dough" setting).  Mix ingredients til well-combined. Remove paddle attachment and use dough hook. Knead with dough hook for five minutes.
Allow dough  to rise in a warm place until doubled (45-60 minutes). Remove dough from bowl and roll into rectangle 24″ x 15″.  Spread rectangle with softened margarine, avoiding one long edge. Combine brown sugar and cinnamon in a small bowl and sprinkle over margarine, avoiding clean edge.  Use a rolling pin to lightly press sugar into margarine.
Starting at long edge opposite clean edge, roll up dough tightly. Pinch edge to seal.
Using dental floss, trim edges flat. Gently mark off 15 rolls about 1 1/2″ wide. Cut with dental floss.
Line three 8×8 pans with parchment paper. Place five rolls in each pan and let rise til gently touching (25-40 minutes).
Preheat oven to 330° and bake until golden brown (16-18 minutes). Don't bake more than two pans at once.
FROSTING:
Place cream cheese and butter in mixing bowl. Using whisk attachment, beat for four minutes on low speed. Then beat for four minutes on med-high speed.
Add one cup of sugar and mix on low for one minute. Add remaining sugar and mix an additional minute.  Add vanilla and lemon and mix on high for one minute on med-high.
Frost rolls while still warm.